IQF Sliced Red Onion
| | |
| --- | --- |
| MOQ | 50 carton, 600 Kg |
| PP Bag/Box | 1kg-5kg-10kg |
| Material | Frozen (-18 Degree) |
| Delivery Time | 3 to 4 days |
| Supply Ability | In tons per day |
| Quality | A++ Premium |
| Nearest Port | JNPT/Nhava, Mundra. |
| Export Load | 20 FCL, 40FCL , Partload |
| Speciality | No Artificial Flavour, No Added Preservative, No Artificial Colour |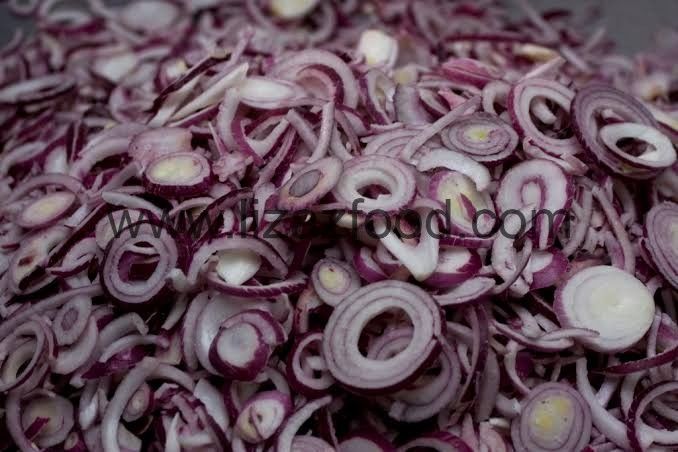 Our diced red onion are sourced from with every single indian state. At the point when the item shows up in the production line, the onions are washed and investigated by hand. The onions are then cleaned, slice to the chose dices and solidified before pressing.
The cut Red Onions are then promptly brisk frozen at our best in class office utilizing the most recent IQF innovation. IQF innovation brisk freezes the onions to – 18 degrees Celsius, and secures in the regular flavor, surface, smell, sharpness and pleasantness of the red onions. 10mm/15mm/20mm and 25mm size
frozen IQF diced/cut onions are better than new onions as they are sourced new at gather, arranged, cleaned; each cut is equally cut and frozen at – 18C. IQF innovation guarantee the flavor, taste and freshness is kept up through the time frame of realistic usability of year and a half.
A few diverse bundling alternatives are accessible to address your issues
Red onions are containing higher measure of enemies of oxidants and furthermore win in classification of malignancy avoidance over white/yellow onions. Furthermore they have less sugar levels which settle on it a favored decision among well being wellness fans.
Characteristics of IQF Product:
IQF product detail:It should be stored at cool & dry place below –18°C to -20 C.
Custom Products Requirement: IQF fruit products can also be supplied as per customer's specifications.
Preservatives Declaration: Free from any chemical preservatives, Color, Artificial Flavor
Pesticide Residues Information: In conformance with WHO recommendations & EC directives.
Color Flavour & Taste of Product :The colour, texture, flavour and taste are uniform and consistent.
Packing: These IQF products are available in 1, 10 kgs bag in box packing. IQF fruit products are packed food grade LDPE bags.
Quality: HACCP, GMP, SPC & QA systems are applied in the manufacturing, storage & other operations.
Usages or Application: Our IQF products are easy to handle can be used in unlimited applications eg. Beverages: Milkshakes, fruit drinks, nectars etc. Diary:Ice–creams, fruit bars, milk shakes, yogurts, puddings, toppings, deserts etc.
Shelf-life of product: Two Years from the date of manufacturing when stored below –18°C.
We are Manufacturer / Exporters / Suppliers Of iqf mango dices, IQF Papaya Dices, IQF Green Peas, IQF Mix Vegetables, IQF Sweet Corn, IQF Corn Cob, Iqf Cauliflower, spices and condiments, Frozen Sweetened Guava Pulp, aseptic alphonso mango pulp, Aseptic White Guava Pulp, IQF Okra, IQF Pomegranate Arils, IQF Strawberry, IQF Seedless Grapes, IQF Banana Dices, IQF French Beans, Frozen Sweetened Totapuri Mango Pulp, frozen fruit pulp, Sulphited fruit pulp, food ingredients, aseptic fruit pulps, fruit concentrate, Seasoning and blends, Aseptic Red Papaya Pulp, ASEPTIC Tomato Paste.
GET QUOTE NOW